If you don't knit, then finding gifts for knitters probably baffles you. Which is why I'm here!
As a knitter, I know what I need, what would be nice to have, and what's just pretty freaking cool whether you use it or not.
This list contains all of those things. 😛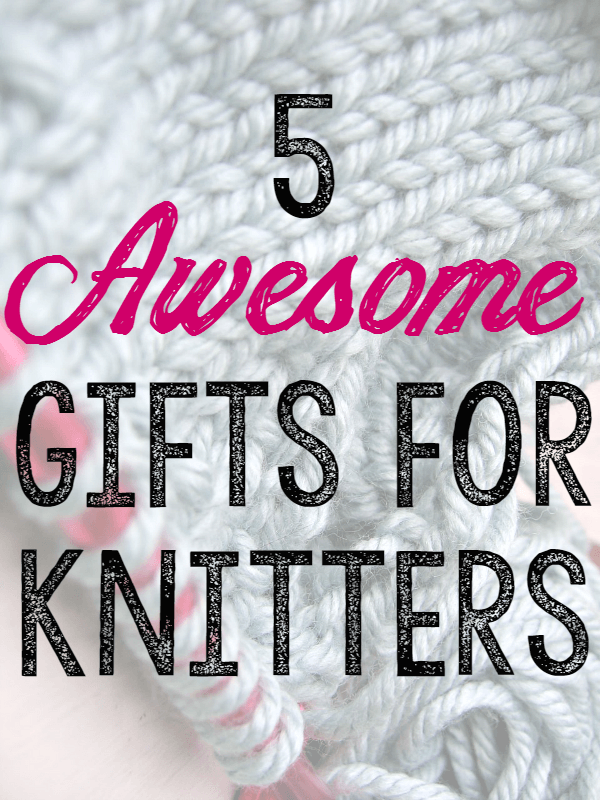 This post contains affiliate links. To read more about my affiliations, please see my Disclosure Statement.
1. Kits and Yarn
I LOVE knitting kits. A kit is a pattern that comes with a box of yarn–enough to complete the pattern (hopefully–I've heard of companies shorting people on the yarn before). You can find all kinds of websites offering kits. My two favorite knitting sites are Craftsy and KnitPicks. I'm particularly loving this diamonds and cables sweater on Craftsy. (Though I've never made a sweater before, it's adorable and it looks like a great one to start with.) And getting kits for something you want is great, too. Maybe I'm just weird, but I'd be thrilled to get a kit from someone, even if it was just something they wanted me to make for them or someone else. It's really the knitting experience that I want. 😛
As for individuals skeins of yarn, despite what my husband believes, a knitter can't have too many. Ever. End of story. Craftsy has a nice selection here, as does KnitPicks, and Yarnspiration. (I love Lily's Sugar & Cream.)
However, yarn is also a difficult gift to receive because it's exciting…but finding things for it is hard, especially if you only have one skein. I have six skeins (in different colors) of KnitPick's Andean Treasure Yarn, which is a wonderful yarn. But I received it a year ago and I'm still not sure what to do with it. When buying yarn, tread carefully. (Though getting a skein in a few colors that I don't have would help immensely, because then I could make a scarf like this. I know it looks like a wrap, but I've seen it as a scarf and it's gorgeous.)
If you're not sure about kits and yarn, though, a gift card for Knit Picks is a great idea.
2. Classes
Know a newbie knitter? How about someone who really wants to knit? Craftsy is having a Black Friday Sale! From now until Black Friday, all classes will be $19.99 or less (marked down from reg. $29.99-$44.99), so go ahead and stock up!
But don't buy classes for an experienced knitter. If you're not sure about someone's experience, then stick with a kit. The great thing about a kit is that if it's too easy, whatever, they'll whip it up and they had a little fun. If it's too hard, they can save it until they're ready or they can do what I did with the Hue Shift Afghan my in-laws got me last year and use it to learn something new. I haven't finished it, but it's going to be awesome when I do. 😛 (I have the Jewel version, but I'd love the rainbow one as well. I'm loving those bright colors.)

3. Cool tools
In general, knitters will have most of the things that they need. So buying specific supplies is unnecessary…unless you find something unique. Like
Note that buying needles in one size is dangerous if you don't know what sizes your knitter already owns. (I already have multiples of anything in US 8, 6, and 13. And I'm the only person buying needles for myself. It happens.)
4. Jewelry
OK, so I'm not personally a fan of knitting-themed jewelry. It's cute, but not something I'd wear (especially earrings, since I rarely wear them as is). But if you have a knitter who you think would love some accessories, there are knitting earrings, a sterling silver knitting necklace, a necklace with an actual ball of wool, more earrings, and more!
5. Wall Art
I'm a little tired of the "Keep Calm" meme, but this Keep Calm and Knit On print is cute (and a feeling most knitters are familiar with). There's also this "I'd rather be knitting" typography, a "Crafty like a fox" embroidery, the knitting fairy (quite cute), or just this cool modern collage (though you have to print it yourself).
If you want something unique, Etsy is THE place to go. But if you're still not sure…just get yarn. Seriously. It's a more exciting gift than you can possibly imagine.
Do any of you knit? Is there anything in particular you think would be really cool to have? Leave it in the comments!
This post was featured at Epic Mommy Adventures.