Is it just me or did this week go by really fast?
First, if you've noticed a problem with my site–like that you haven't been able to click on anything or that there is a giant H on the screen when pages load–this is not a problem I can fix. HelloBar (that big, red email bar going across the top of my page) recently updated itself and it created a bug in Firefox only. If you use Google Chrome, Internet Explorer, or Safari, you shouldn't notice it anymore. They have been working on fixing the bug, so you should be able to click on things now. But that H will show up until they fix that, too. Sorry about that!
Anyway, here's what's going on in my world: I've been editing my site's theme a little more. I finally figured out how to change the fonts and the accent color in Sugar & Spice. I'm not quite done. I still want to add a second header menu and widget. It's not going well.
Atlanta has cooled back down. It got below freezing last night and today it's still in the 30's. After nearly a full two weeks of 60's and 70's, I thought spring had officially arrived. I even put the lighter blankets on my bed. Oops. But it's supposed to get warm again starting Monday, so I have that to look forward to!
If you play board games, TableTop Day is coming up! I believe it's the Saturday after Easter. I've got some content planned for that. (Speaking of Easter, Jessica from Live Randomly Simple will be here next week with an Easter-themed DIY. So make sure to come check that out!)
Now onto this past week's content! Here's what I did: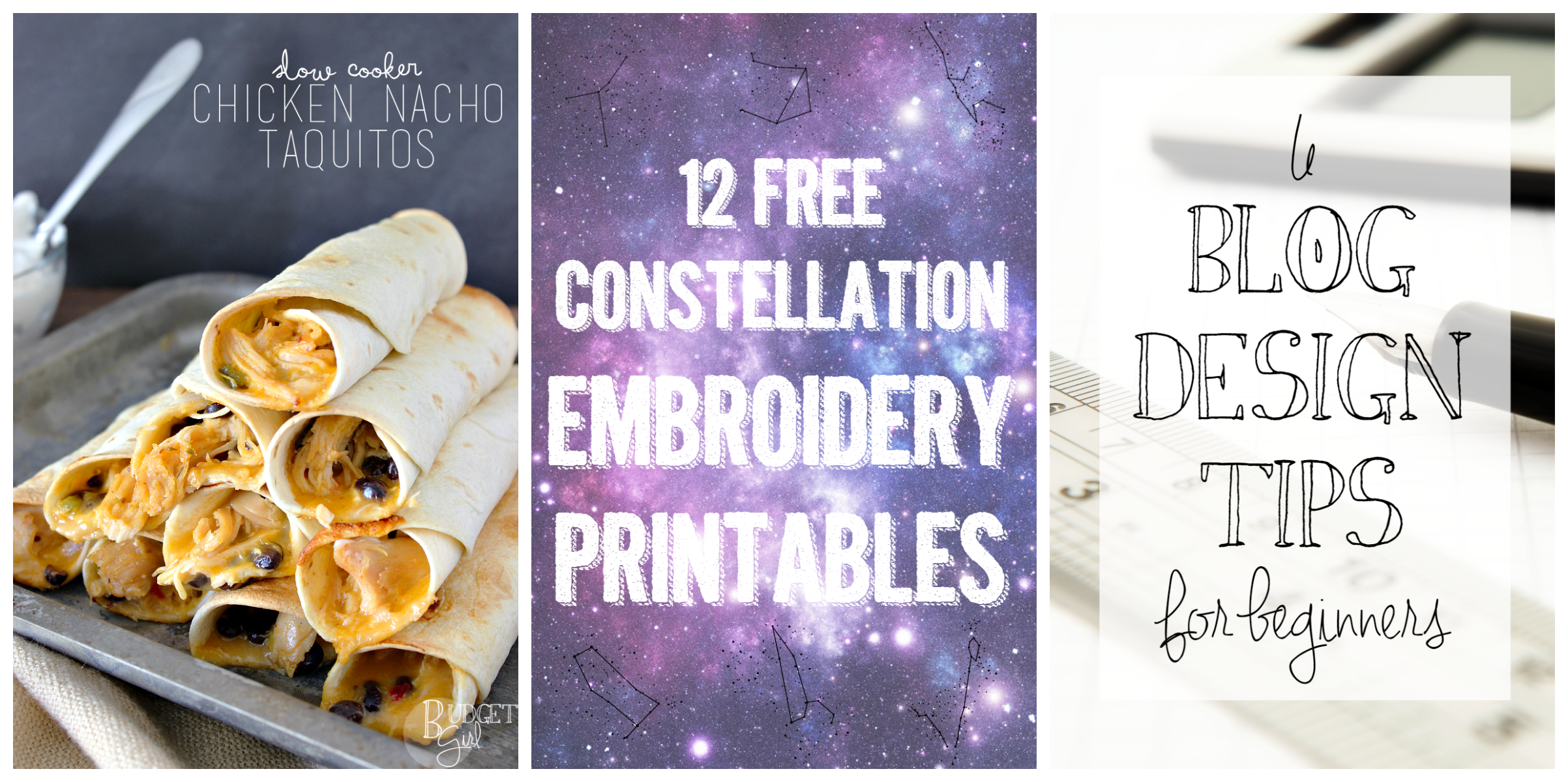 1. Slow Cooker Chicken Nacho Taquitos
2. 12 Free Constellation Embroidery Pattern Printables
3. 6 Blog Design Tips for Beginners
Now let's see what you've been up to!!
Want to get others in on the party? Tweet:
I just linked up my content at My Favorite things! The party goes all week, so come link up!
Click To Tweet
Featured from last week's LinkUp:


If you are featured, don't forget to grab a button from the bottom of this post!
This week's LinkUp:
Please follow the co-hosts in some way.

Add your Craft, giveaway, family adventure, recipe, DIY, etc.

NO Esty shops, items for sale, or blog hops.

Please ONLY share NEW posts or seasonally appropriate posts (Goes with current season or holiday).

Don't forget to sign up for your weekly reminder e-mail Here!
Grab a button so others can join in the fun.

Check out a few others posts and comment (It's what you'd want others to do to you)

Come back next week to see who was featured!

Your participation in this link up gives

the host and co-hosts

permission to

share your images and links on blog posts /social media.