Today is the first day of 2014!
Naturally that means I've been spending my whole day staring at my stats page and looking for ways to improve numbers (or I will when I wake up, since this post will be going up at midnight and I am either still partying or sleeping off a hangover…only time will tell). Of course, the only way to improve numbers is to improve content. 🙂 It's on my to-do list!
This is made pretty easy every year, since WordPress and Jetpack send me a very nice annual report. I just got the one for 2013 yesterday! (I have made it public, so you can view it here.) Before I move on with this post, I'd really like to thank the four people listed as my most active commenters (it would have been five, but WordPress decided to count me as one of them…odd).
4. Lauren @ The Thrifty Ginger
(Facebook || Pinterest || Twitter)
3. Elena @ Cropped Stories
(Bloglovin || Facebook || Google+ || Instagram || Pinterest || Twitter || YouTube)
2. Ginger @ Gingerly Made
(Bloglovin || Etsy || Facebook || Google+ || Pinterest || Twitter)
1. Maria @ Trine Marie
(Bloglovin || Facebook || Instagram || Pinterest || Twitter)
Maria's comments on my blog surpassed even my own. Wow.
Thanks to all of you (even the ones who didn't make the top 5–I wish I knew who the REAL fifth person is)! And I hope the rest of you will thank them, too, by visiting and following them!
Stats are a funny thing. They show my most viewed posts, the posts with the most comments. Somehow, they're never the posts I'm proud of. Which means you people are weird.
Actually, I see why some posts are popular! I really do. What I will never understand is what makes one post more popular than another. Obviously, I know when I'm half-assing it. I'm sure you all know, as well. But there are posts that mean the world to me that never see the same numbers as others…and that blows my mind.
So today is a stats post! We'll take a backwards glance at the most popular posts, and my personal favorite posts of 2013. Partially to get my favorite posts some well-deserved limelight…and also because it's New Year's Day. We're all nursing a hangover (be it alcohol- or fatigue-induced), so we should probably ease our way into this.
10 Most Popular Posts
10. Crumbly Cream Cheese Pumpkin Bread
This one blew my mind for a moment, because it was so late in the year! It was part of my 13 Days of Pumpkin series in October. Basically, it's pumpkin and cream cheese. What's not to love? Taking that into account, I'm surprised this is so low on the list.
9. How to Stain Wood Furniture
To be honest…I was a little blown away by the popularity of this post. But then…with the world's new obsession with DIY, I really shouldn't have been. Either way, it's incredibly useful.
8. Coffee/Tea/Cocoa Station
Again…another post that was far more popular than I thought it would be. I did nothing for this post, but gather photos that I found inspirational. A hot beverage station is something I've been thinking about for a few years. One day!
7. Chicken Bacon Ranch Lasagna
Not my best pictures…but certainly one of my best recipes. Which, naturally, means it's incredibly bad for you. Something I discovered: don't used sweetened condensed milk. This would probably be common sense to most of you…but apparently it is not to my sister. Ew.
6. How to Make a Guitar Shelf
When did this one become so popular! That REALLY snuck up on me! I made this for my husband last year for Christmas…and most of my viewers at the time were so uninterested in it! Which is surprising, because it's so awesome. But it became more and more popular as the year has gone on…and it has maintained a spot in my Top 10 Posts for a few months now. Score!
5. Five Knitting Tips for Beginners
Considering how recent this post is (November 18!), I'm not sure if its success should be attributed to how awesome it was…or how terrible my others were! Knitting is becoming a very popular past time for my generation. In fact, its popularity fluctuates. It seems it becomes popular for every third generation…and its popularity plummets when feminism has a huge wave of success. But then we realize just how useful a skill it is and it gains popularity again. Sociological patterns are funny sometimes.
4. Pumpkin Pie Liqueur
I'd love to say that the popularity of this post surprised me…but it didn't. 😛 What did surprise me is that, like many of these other posts, it started out very unpopular. But this stuff is completely delicious! Also, now that I have tried to recreate it, I suggest you stick very closely to the recipe. Otherwise, terrible things happen. Ugh.
3. Paleo Fruit Dip
I made this for Zach and I to snack on while we watched the 2012 Superbowl. I've made it a few times since then, since it's great for a dessert or a fruit breakfast. I've tried peanut butter, almond butter, and white chocolate peanut butter. The almond butter was my favorite. You would think the white chocolate would have been…but it was way too sweet. And that's coming from a woman who doesn't like creamer in her coffee…but prefers a little coffee in her creamer.
2. Baking Brownies in a Cookie Cutter and Why it Doesn't Work
I am SO HAPPY that this got the #2 spot! I love educational posts and I HATE when Pinterest posts things that are just blatantly false (seriously, what are people thinking when they just take a picture and completely fabricate a story for it?)! Now I know that many of you feel the same way and I find that heartening. 😀 This was my favorite post to make, as well, because I got to eat all of the failed brownies. Which was all of them.
1. Date Night Jar
This gained a lot of momentum in December…which isn't surprising now that I think about it. Valentine's Day is coming up…and I'm sure a few couples made a New Year's resolution to spend more time together and work on their relationship. One thing I do need to change about this, though, is the size of the jar. The mouth isn't quite wide enough. I recommend using a straight jar for this…not one that curves up into the mouth.
The majority of these posts became popular over the last month, which is very odd! That's blogging for you, though.
My (and Zach's) 10 Favorite Posts
This is actually really difficult, because I like all of the posts above, as well. In fact, I would make some of those my top ten. But let's make this more interesting and not include those!

I'm so glad I made this! I'm sure it will fall apart the moment I try to move it, but it cost me very little to do and now I don't have a ton of shoes lying around my living room. Ahh, orderliness.
9. Pistachio Refrigerator Cake
I love this. I have loved it from the moment I found that recipe at my grandmother's house. Everything about it is so good and very summer. This would make a perfect summer party dessert.
8. Marbled Pumpkin Pie
This should have been #9…but I liked the pictures more. 😛 Also, it's so good. And gorgeous with very little effort!
7. Roasted Red Pepper, Zucchini, and Gouda Soup
I can't believe it's been since September since I've had this! I also can't believe it was one of Zach's favorites, as well. I was under the impression that he didn't like it…. But now that I know better, I'll be making it again very soon!
6. Southwestern Turkey Burgers
Zach actually kind of demanded that I put this up here…and then expressed his disappointment with me for not making them again. 😛 (What he doesn't know is that I made them for my family when I went to Tennessee with them last spring. Ha!) They're very good, though, so we're thawing meat to have them this week.
This was very popular at one time, but its numbers started to dwindle. I've been updating it as I try coming up with new solutions to my magnet problems, so I suggest keeping up with that one! I think I'm either going to resort to super glue or magnetized spray paint. We'll see.
Another one that I'm sure only Zach and I were able to appreciate. They remind me of autumn days when I was kid. They remind Zach of how delicious apple dumplings are. It's a win-win. (Also, they are NOT as dry as that picture looks. They're actually quite moist.)
3. Sicilian Lasagna with Peas & Sausage
Drool. There is nothing more to say.
I. Love. This. Stuff. I even wrote a long update at the bottom of the post explaining exactly why I love this stuff. I've been using it for a few months now and it is the best shaving cream ever! If you haven't read this post, you really need to.
And finally…the best post of 2013. In all honesty, the shaving cream would have been my choice. And then Zach weighed in, making this the choice for the #1 spot: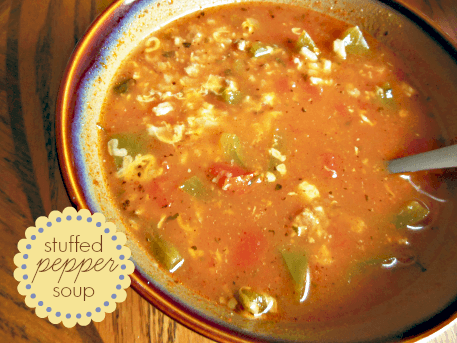 We make this All. The. Time. If I can't think of something to make, I run to the store, grab some peppers, and voila. It also makes so many leftovers, which is awesome! It doesn't hold up well through the freezing/thawing process, though. The rice turns all mushy…which may have just been the way I heated it up. But mushy rice makes for a very flavorless soup. The only reason I would recommend freezing any of this would be if you live in an area that gets a lot of snow and you're stocking your freezer with emergency "I can't get out of the front door, let alone to the grocery store" meals.
One more thing!
As Zach pointed out, it's important to remember your successes, but it's just as important to reflect on your failures. (Though I think he only said that to laugh at me…but whatever. Laugh it up, buddy. Just remember that I make your dinner every night.) So here are my two best failures of 2013:
How to Screw Up an Easter Bunny Cake
Zach says he looks like Frank from Donnie Darko.
and
Nearly Dead Plants
The majority of them never got better after this. But at least I know what I did wrong!
I really should have more failure posts than I do, but I must have forgotten to post them. 😛 No worries. I have a failure coming to you on Monday. 🙂
Happy New Year!!